OUR MISSION IS YOU.
I'm Amy Dowdeswell, Founder of Secret Veneers and your guide to becoming your best self.
I've built this business and website to share what I've learned on my journey to becoming the best individual I can be in every area. It's my mission to help you succeed and master the areas of life you're aiming to build up; starting with your smile.
At Secret Veneers, we believe in using our resources to make a difference in the lives of those in need. That's why we proudly sponsor a domestic violence charity - Trevi Women dedicated to supporting recovery. We understand the profound impact that physical trauma can have on a person's self-esteem and overall well-being. Through our partnership, we aim to help survivors regain their confidence and smile brightly once more. Together, we're not just transforming smiles; we're restoring hope and empowering survivors to rebuild their lives with newfound strength and dignity. If you are in need of a safe space, recovery or support please do click the link.
HOW DOES IT WORK?
1. Place your order online in the shop; depending on what you need to cover. Pay by any bank card or choose finance from Klarna or Laybuy.
2. We will ship you an impression kit and instructions. Take your dental impressions at home privately.
3. Ship them to our dental lab and we will scan your impressions into our CAD CAM computer, design your new smile digitally with the latest technology and 3D print your clip in veneers.
4. Once made we will ship your appliance to an address of your choice.
5. Feel the power of being able to smile again confidently - this is the start of freeing yourself, break through the self imposed ceiling of not feeling good enough. You will now unleash your potential and bring more happiness into your life.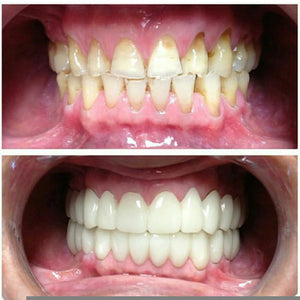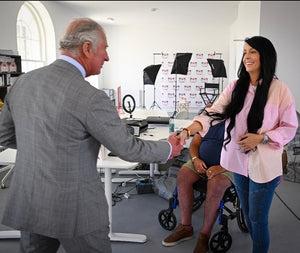 King Charles iii Visits our hq!
We had the best surprise recently at our Head Office in Poundbury Dorset. His Royal Highness King Charles III came and thanked us for providing free transformations for anyone who has lost teeth due to a domestic violence incident.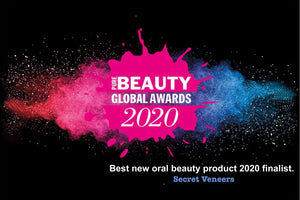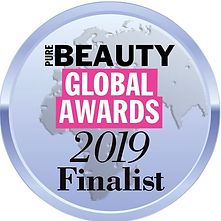 WHY CHOOSE SECRET VENEERS?
If you have considered porcelain veneers, you know that it is a painful, invasive, expensive and absolutely irreversible procedure.

Our clients get incredible results at a fraction of the cost without painful procedures. Secret Veneers are an affordable and reversible alternative, our clients have a much easier decision.
Not everyone can afford cosmetic veneers right now, we provide an alternative option for the millions of people who cant smile.
- We are the fastest! We can change your smile in just 3 working days!! Choose express production.
- We are the only clip in veneer brand who do not charge full price for a spare or replacement arch.
- If you fancy another shade or you loose your clip ins we only charge £99 per arch for another one to be made.
- We are the only clip in veneers brand who refund you in FULL if our dental experts deem you are not suitable for our product after you send us your impressions.
- We are the only clip in veneer brand who offer 100% satisfaction guarantee - We will not stop remaking you clip in veneers for you until they fit you and you are perfectly happy (you must inform us of any issues within 30 days of getting your product).
- If your impressions fail or you mess up we do not charge you for more impressions - we ship you more dental putty for FREE!
- We invented the super thin range way before everyone else jumped on the band wagon!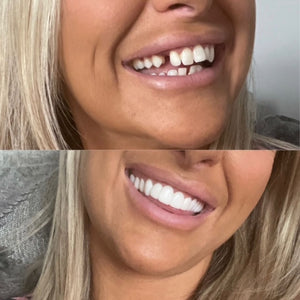 We can cover missing teeth.
If your wondering how to hide a missing tooth then this is for you! Lost a tooth and cant get a dentist appointment? We can hide up to 4 missing teeth in a row until you can get treatment! We know this can be super embarrassing and we can make you a clip in veneer as fast as 3 working days!
This client lost a baby tooth and was offered a denture by her dentist. She chose secret veneers for a more modern comfortable alternative - leaving enough space for the tooth to grow inside the appliance!
Our client wears shade bl1 upper and lower 0.4mm standard thickness.
SHOP HERE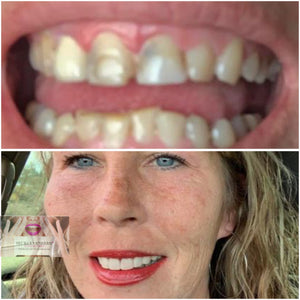 WE CAN COVER DAMAGED TEETH
No one will even know about your tooth discolouration! Got a wedding coming up? We are the quickest, affordable solution to hide your damaged or stained teeth. This client wears shade A2 standard 0.4mm upper clip in veneer.
SHOP HERE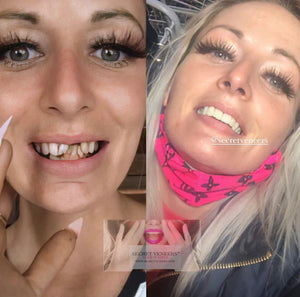 We can COVER misaligned teeth.
Do you struggle with crooked teeth? Look no further we have a solution for you! Don't want to wait a year for braces to work? We don't blame you! Secret Veneers sit on top of your crooked teeth and cover all your imperfections underneath!
This client wears shade A1 standard upper and lower clip in veneers
SHOP HERE
delivery times.
We are based in the UK but we ship wordwide.
Your impression kit will be shipped;
UK -1-3 working days by Royal mail 1st class post.
International orders - 5-10 working days by Royal Mail and USPS Tracked and signed for.
Your clip in veneers will be custom bespoke made in 3 working days EXPRESS or 14 working days standard depending on what you choose in the shop.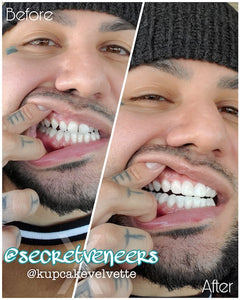 Client Transformations;
We post all our client makeovers on our instagram page for you to see; so just click the link below.
This client wears our super thin material in shade A1. Please note everyone has different dental structure and everyone will have a different unique clip in veneer personally made for them. Our clip in veneers can make your smile look better but they are specifically made to enhance and not to give life time change. We are a brand who supply a better, cheaper way to smile.
Tag us for a chance to be featured @secretveneers
Finance options available
We are partnered with KLARNA & LAYBUY so you can get your smile now and pay in 3 instalments. Simply select KLARNA or LAYBUY at the checkout instead of using your bank card. No interest and no fees!